There's a
Better
way
to mortgage

LoanFly is the
Better

Way to Mortgage.

Whether you're always on-the-go, have a need for speed, looking for personal service or all three—with LoanFly you can soar through the home loan process the way you want. We know it can seem complicated, but with LoanFly buying a house doesn't have to be hard.
Faster
Quickly prequalify, own in as few as ten days, spend less time on the loan process – LoanFly makes high-speed a reality.
*Timeframe not typical. Not all loans will close in 10 days.


Easier
Prequalify on the app or online, submit documents, and check loan status without ever leaving your couch. LoanFly makes the process simple.
Friendlier
If you never want to meet in person or if you want to work side-by-side, we work on your terms. With LoanFly, it's mortgage the way you want it.
LoanFly the App
Forget everything you know about the home loan process. With our free LoanFly app, you can quickly prequalify, search for homes, upload documents, check loan status and more all from your device. No pen, no paper, no problems. Download the free app now.
Download app
Download app
LoanFly Prequalify
Ever wondered how much house you can get? Start with LoanFly and become an educated buyer. We help you decide how much you can afford so you can find the home of your dreams within your budget. Then the real fun begins—use our LoanFly app to search for homes anywhere in the U.S.
Prequalify Today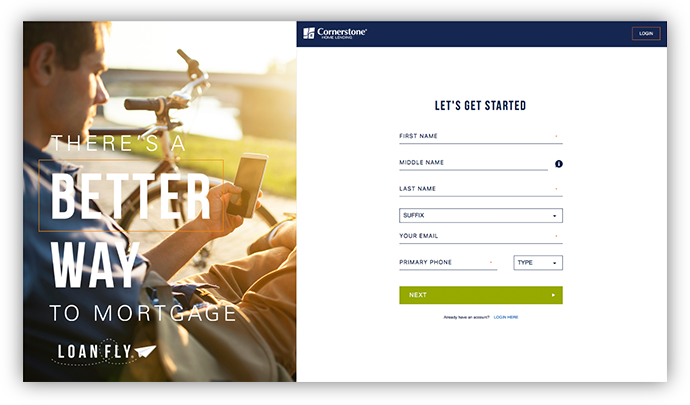 LoanFly Borrower Portal
Let us take the guesswork out of your home buying process. Don't stress about how to send documents or check your loan status. With LoanFly, everything you need to know is at your fingertips anytime, anywhere.
A Variety of Loan Programs – From low down payment to VA loans
Quick Prequalification – In as little as 15 minutes
On-Time Closing Commitment – You can get into your home when you expect
Personal Service – Work with the same loan professional from prequalification to closing
Free Mortgage App – Complete mobility to access your loan information
No Gimmicks – With us, it's easy