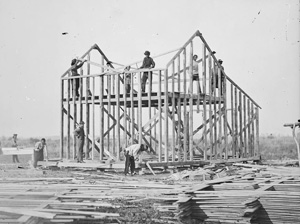 Roscoe Bank was founded in 1906, and remains an independent community bank with a focus on the highest level of customer service. Family-owned and family friendly - that's our style.
We are not the new kid on the block with the slick marketing slogans. But we have been around the block enough to get even the toughest deals done.  We are also not the big corporate types that treat you like a number instead of a person. Our neighborhood is Main Street, not Wall Street!  Providing affordable home loans to real people who deserve the highest level of customer service from someone who will take the time to get to know them - that's more our style.
Roscoe Bank's community-minded lending efforts have been making homes available to its neighbors for more than 100 years, providing them with personal, friendly service with competitive rates and low closing costs. The experienced and dedicated professionals at Roscoe Bank can help any borrower overcome the roadblocks that can arise while securing a mortgage loan. Rest assured, this ain't our first rodeo.